New salt cave for the treatment of respiratory diseases in the Pushkinskiy Gory children's home
Our sincere thanks go to our long-term partner Daiichi Sankyo Europe
Nothing in the world is as contagious as laughter and a good mood.
Tuberculosis is one of the ten leading causes of death worldwide (WHO). Although the incidence of tuberculosis is decreasing every year, the spread of the disease in Russia is still a serious problem. The prevention of tuberculosis is primarily based on improving living conditions: fighting poverty, poor hygiene, malnutrition.
The Pushgory children's home, surrounded by greenery and on the edge of a forest, welcomes and treats more than 100 children from the Pskov region who are suffering from lung diseases such as tuberculosis. These children require special care, especially to live in an environment that is conducive to their recovery.
One of the treatments that will help these children recover is that Halotherapy. Halotherapy, better known as salt therapy, consists of the therapeutic use of natural salt in a microclimate in the form of a salt cave or piece of salt, simulating the real effects of a salt mine. Halotherapy helps eliminate toxins and strengthen immunity. It also enables better lung function. A 20-minute halotherapy is equivalent to 3 days by the sea.
Thanks to the generous donation from our long-term partner Daiichi Sankyo Europe, an international pharmaceutical company, a salt cave was installed in the Pushgory children's home.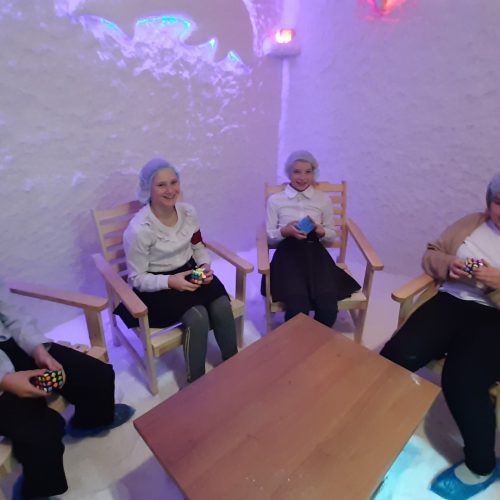 We are on behalf of the children and the employees of the children's home Daiichi Sankyo very grateful for your invaluable help.