Football Cup small hearts 2021
Football Cup small hearts 2021
A project by the Pskov Children's Foundation
On Friday, May 21st, the final of the soccer cup "little hearts", organized by our local partner Pskov Children's Foundation, took place in Pskov.
The little footballers from the children's homes in the Pskov region trained with energy and passion all year round to be part of it. 400 children from 9 children's homes took part in the tournament.
The soccer cup "small hearts" is part of the charity project " Friendship Ball"Organized by our partner Children's Foundation with the support of the FIFA social program" Football for Hope ".
The soccer cup "small hearts" started in 2013 with the participation of children from 3 children's homes. In 2017, the Children's Foundation took over the project with the support of FIFA.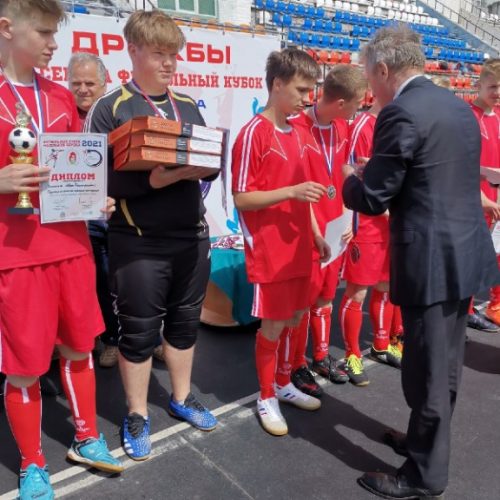 Why soccer?
Football, a team sport, teaches the children to live in society and to respect others, and at the same time awakens the team spirit in all its forms, such as the spirit of competition and self-assertion within a group. On a physical level, it is a complete sport that is particularly beneficial for health and gives the youngest a taste for physical exertion and endurance.
Aside from the numerous health benefits, soccer is a real school of discipline and rigor, but at the same time passion and joy that brings together many ingredients to make children thrive.
We thank our partner Children's Foundation for the implementation
of the project and for his commitment.